Pygmy Pigs – Tiny, Cute and Ready for a Closeup!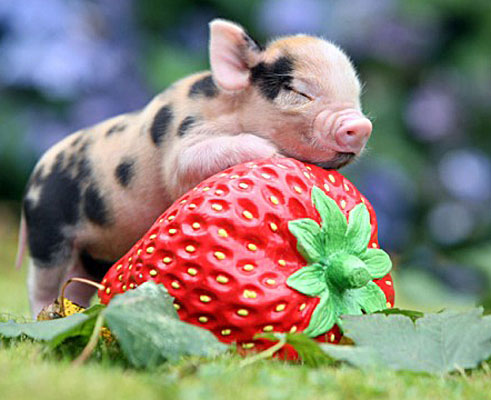 At Pennywell Farm in Buckfastleigh, England this adorable baby piglet poses sweetly on a bit of fake fruit for a calendar photo-shoot. These adorably baby animals are called pygmy pigs; or sometimes "micro", "mini" or "teacup" pigs – you'll see why when you have a look at the pretty piglets we have in store for you.
You might remember the term "pygmy" from our story about the adorable Harry the Hippo. Why stop at just baby animals when you can have baby pygmy animals and dress them up with scarves or in boots? Or, if you just like swine and can't get enough piglets, remember to go back into the archive for our last spotlight on adorable baby pigs!
These tiny piglets are some of a variety of different specially bred pet pigs ranging from the original potbelly pig which was as big as 26 inches down to the latest innovations in tiny pig technology such as the "Mini Juliana" pig, which is at most a full 10 inches smaller than the potbelly, at only 16 inches! WOW!